A bus drivers' strike stranded more than two million passengers in Sao Paulo on Wednesday, just 22 days before the Brazilian megacity hosts the opening match of the World Cup.
Meanwhile, adding to concerns about public safety before the year's biggest sporting spectacle, police detectives staged a partial walkout in many parts of the country.
Reports said 2.5 million people were left stranded by the drivers' strike in the Brazilian economic capital, only the latest in the build-up to the World Cup and elections scheduled for October.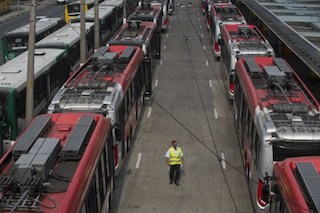 Some drivers asked their passengers to get out and abandoned their buses in the middle of the street, exacerbating the notorious traffic problems in the sprawling city of 20 million people.
Few of the city's 15,000 buses were running, and metro stations were flooded with commuters struggling to reach their destinations.
Metro passengers fought amongst themselves for space on trains that were packed to the limit.
"This strike is messing up all my plans. I had to leave at four in the morning to get to work on time, and now to get home I have to use the metro and a bus, which costs more money and takes longer," Maria Francisca Silva, a 46-year-old janitor, told AFP.
The Brazilian press carried photos of enormous parking lots packed with buses in Sao Paulo, which will host the World Cup opening match on June 12.
"We don't know how long this strike will last. This afternoon there's a meeting and we hope there will be a solution," a spokesman for transit authority SPTrans told AFP.
SPTrans said 12 of the city's 28 bus terminals were closed, mainly in the city center.
Drivers are reportedly rebelling against their own union, which agreed a 10-percent pay increase in negotiations with management.
Mayor Fernando Haddad condemned the strike, which caught him by surprise when it erupted Tuesday.
"This is an unacceptable guerrilla war in the city of Sao Paulo. How do you get on a bus and ask a passenger to get out, park the bus in an intersection and take out the key? It's absurd that a union reaches a deal and a minority acts this way," he told Band TV.
Gilberto Carvalho, secretary general of President Dilma Rousseff's staff, called the strike "irresponsible toward citizens."
"We hope common sense prevails, that as the World Cup approaches these protests will diminish," he said.