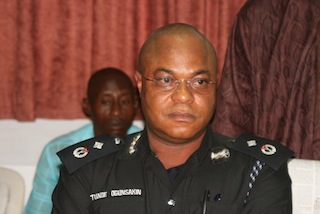 The Commissioner of Police in Rivers, Tunde Ogunsakin, said on Wednesday that the command rescued 35 kidnap victims and arrested 257 `criminals' in February.
Ogunsakin told journalists in Port Harcourt that 98 cases, involving 175 suspects were charged to court same month.
The commissioner said the command recovered 1,115 rounds of ammunition from criminals from February to April.
He said the crime rate in Rivers had been reduced to a minimum level.
He added that the task of safeguarding lives and property of the people should not be the duty of the police alone.
He urged the people to provide information to security agencies to assist them to fight crime.
"The police in Rivers will constantly re-strategise and review its operational strategies to ensure safety of lives and property," Ogunsakin said.
He said the command would collaborate with Joint Task Force (JTF) and other agencies to fight crime.
"The command has met with traditional rulers, stakeholders and resuscitated the Joint Task Force to fight against sophisticated crimes," the commissioner added.
Ogunsakin said the command had caught up with global ICT using ultra-modern facilities that enable the intelligence department to catch up fast with reality.
Ogunsakin urged law abiding citizens of the state to go about their businesses without fear of harassment.