Cyriacus Izuekwe
A truck with registration number XU 68 KR carrying  two containers, Thursday  fell on a moving bus in Lagos State, Western Nigeria.
The incident happened at about 7a.m. at Toyota bus stop on Oshodi-Apapa expressway.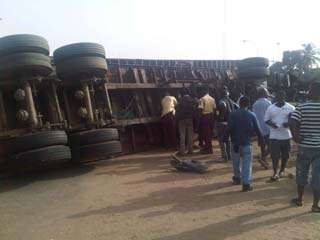 The accident completely paralysed traffic on Airport road from Toyota bus stop as well as Ajao Estate at the time of filing this report.
Although there was no reported case of death,  the drivers of the truck and the bus were badlly injured.
They were  taken to a hospital for treatment. The truck and the bus were also badly damaged.
Eye witnesses said the truck was coming from Mile 2 area toward Aiport road when the incident happened.
On getting to Toyota bus stop, the driver wanted to link Airport road but the truck's brake failed and the driver could not control the truck.
He rammed the truck into a pillar and it summersaulted and fell, spilling the two heavy containers it was carrying on the bus. The accident caused heavy traffic because the truck fell across the road.
Motorists  could not move because there was no access road through which to divert their vehicles.
This continued for several hours until LASTMA officials and policemen created a lee way for motorists to pass to Oshodi.
When P.M.NEWS visited the scene of the accident, the security men were busy trying to create a bigger passage for vehicles.