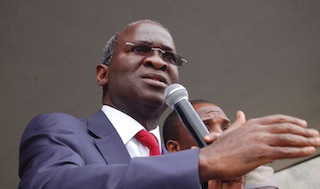 The Lagos State Government on Thursday said it rescued 72 abandoned babies, comprising 38 females and 34 males, were rescued from the streets by the government in the last one year.
Enitan Badru, Special Adviser to Gov. Babatunde Fashola on Youth and Social Development, made the disclosure at the 2014 Ministerial Briefing in Ikeja.
He said the rescued babies have been taken to the different registered orphanages for care.
He said Lagos received 1,200 applications for adoption of babies. The applications were mainly for babies in the various orphanages and others willingly given up by their parents.
The special adviser said 88 babies were eventually released for adoption while 87 were legalised through the family courts.
Badru said 20 babies were adopted by international parents while five babies were for relative international adoption.
The special adviser said the state government was partnering with a number of countries including the Netherlands on international adoptions.
"The government is currently partnering with the Netherlands' Ministry of Justice and a few other European countries like France, United Kingdom on modalities to facilitate international adoption of babies in the state," he said.
Badru urged people willing to adopt babies in the state to follow due government process as adoption without government's approval was illegal.
He also urged those who ran orphanages in the state to obtain authorisation because those who failed to do so would be treated as child kidnappers.
Badru said two orphanages in Alagbado and Ikotun areas were closed in the period under review for illegal operations.
He noted that 238 juvenile cases were handled within the period and 16 juveniles were transferred to their states.
The special adviser said that 16 others were repatriated to their home countries and 49 were released on supervision.
Badru also said 33 persons were convicted at the state's family courts for various offences, explaining that three were convicted of rape, 28 of physical assault and two of incest.
According to him, 324 destitute persons were rescued from the streets in the last one year while 48 were re-integrated with their families.
He said that 29 of those rescued were abandoned patients while 67 were abandoned victims of road accidents.
Badru said two destitute indigenes of the state were returned home from Akwa-Ibom State.
The special adviser noted that destitution was becoming a problem as destitute persons were not only constituting a threat to themselves but also the environment.
He urged residents to donate to orphanages and rehabilitation homes if they asked for help rather than give alms to beggars.
"We are handling too many cases of destitution and if people continue to give them alms they are only encouraging it," he said.