Asiwaju Bola Ahmed Tinubu, National leader, APC, has described as political mischief the attempt to misconstrue his
statement concerning the Obas in Yorubaland.
Bloggers have been attacking the APC leader over an alleged statement credited to him during the 80th birthday of Awujale of Ijebuland, Oba Sikiru Adetona. Despite Tinubu's swift denial of the statement, the attacks had continued.
"I have never referred to any Oba in Yoruba land as uncultured. I hold Obas in high esteem. I have so many titles especially from Yorubaland. Only those involved in political mischief will try to misconstrue the high respect I normally give the Obas. They are just making a mistake".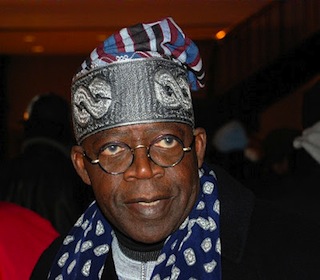 Former Governor Tinubu made this clarification when responding to a question by a journalist about his views on the role he thinks the Obas should play in ensuring national security and free and fair elections.
Speaking further, Tinubu said, 'During the Age of colonialism, the Obas were the custodians-even the defenders of our territory and ever since they have been protecting us in their own cultural ways. Especially great Obas like the Alafin of Oyo, the Soun of Ogbomosho and even the Ooni of Ife among several others. Like Ooni of Ife said, they held forte while many of us were hunted and hounded out of the country by military dictators and history has documented our roles comprehensively. If we did not survive that period, we would all have lost whatever values we have now or the dispensation we now enjoy. But because we now have democratic institutions does not render them invalid and I have never referred to any Oba in Yoruba land as uncultured".
Tinubu spoke after the APC Flag was handed over to Dr. Kayode Fayemi in Ado-Ekiti on Wednesday. The handover rally
attracted an unprecedented mammoth crowd with about 10 APC governors in attendance and several former governors,
senators and House members.