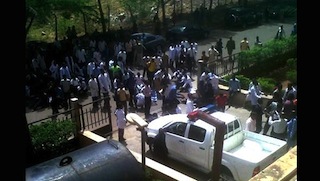 Students of the University of Abuja on Thursday staged a protest, accusing the University's Teaching Hospital, Gwagwalada, of negligence which allegedly caused the death of one Chiwendu Okafor.
Okafor was a 200-level Political Science student of the university.
Some of the students, who spoke during the protest, said the deceased was found in his hostel secreting foams from his mouth and was rushed to the hospital for medical attention.
A course mate of the deceased, who pleaded anonymity while speaking to NAN, said the deceased was brought to the hospital alive, but his condition worsened after medical help was allegedly delayed.
He said Okafor drank a substance called sniper (poison) and started bringing out foams from his mouth.
The student alleged that the deceased bought the sniper, saying he would use it to kill mosquitoes but eventually used it on himself.
"Okafor was a lively person and well known in the Political Science Department; why he took the poison we cannot tell," he said.
The Chief Medical Director, (CMD), University of Abuja Teaching Hospital, Dr Peter Alabi, told NAN that Okafor was brought to the hospital dead.
He said the doctor, who was on duty at the casualty on 21 May, confirmed him dead and referred his remains to be kept in the mortuary.
Alabi said that the medical record of Okafor described him as "a lifeless young man, an undergraduate, brought to the hospital in a car".
"They did not bring him down from the car with secretion from his mouth," he said.
Alabi said there was no issue of negligence on the part of the hospital.
He said the Federal Government, through the Ministry of Health, had a policy that anybody brought to the casualty should be given all attention.
The CMD said that the policy also required that even if it was obvious that the doctors would need a police report, the patient must first be attended to.
"So, we did not reject anybody on account of not involving the police."
The Divisional Police Officer in Gwagwalada, Mr Patrick Daaor, also told NAN that the police had begun investigations to know the cause of Okafor's death.
Daaor said the deceased's roommate, Zelux Akinlabi, who allegedly saw him last before his death had been invited by the police, and was currently undergoing investigation.
He said as soon as the police were through with their investigation, they would release Akinlabi to the security department of the university.
"We got the information from his roommate that the deceased drank the substance called sniper."
"We intend to carry out an autopsy on the lifeless body, to enable us to know the actual cause of his death," he said.
Daaor said that over 200 students stormed the station, demanding the release of Akinlabi.