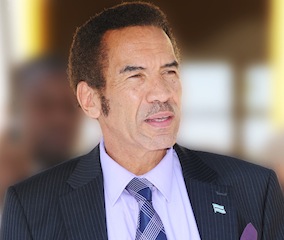 The second African Youth Games kicked off in Gaborone, Botswana on Thursday, with host President Ian Khama describing sports as a unifying factor in the continent.
Khama urged the participants to remember the 200 school girls, who were abducted in Nigeria 39 days earlier.
"Sport is one of the most cross-cutting of all development and peace tools.
"Through the 2nd African Youth Games, we are unifying the African Youth, as well as showcasing their talent," President Khama said while opening the Games.
"My government fully subscribes to the sport for development and peace, as the international working group for sport recommends, which recognises the role that sport can play in promoting peace and development,'' he added.
Khama urged the athletes and officials to celebrate being selected to become ambassadors at the games.
Official statistics indicate that an estimated 120 million watched the official opening, which was televised live by Super Sport and Botswana national television.
"As much as we all intend to enjoy ourselves during this event, let us also remember another group of young people in our thoughts and prayers who are the many young girls who were kidnapped by terrorists in Nigeria," said President Khama.
"We hope that they will soon be reunited with their families and return to their education," he added.
Some 2,500 athletes from 54 African countries are competing in 21 sports events during the May 22 to May 31 Games.
PANA reports that the inaugural edition of the games, for people aged between 14 and 18, was hosted by Morocco in 2010.
Games' organiser, the Association of National Olympic Committees of Africa (ANOCA) said the Games offer African athletes a platform to prepare for the Olympics, as well as to develop sports on the continent.