Uganda's President, Yoweri Museveni has mocked Nigeria's President, Goodluck Jonathan over the worsening insecurity occasioned by terrorism in Nigeria.
Museveni, a former guerrila fighter before he became president, mocked Jonathan while speaking at a grand final campaign rally for the NRM woman standard bearer Rebecca Nalwanga at Zirobwe Town Council grounds in his country.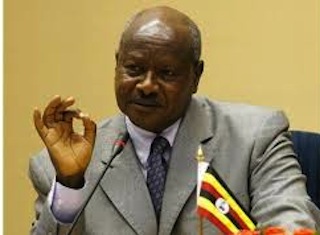 He said he would rather commit suicide than ask the international community to help safeguard his country against militias, boasting that his country has a strong army to do the job.
In apparent reference to the support Nigeria has received from foreign powers to rescue the Chibok schoolgirls kidnapped by Boko Haram on 14 April, Museveni mocked: "I have never called the United Nations to guard us. Me, Yoweri Museveni to say that I have failed to protect my people and I call on the UN: I would rather hang myself. We prioritized national security by developing a strong Army, otherwise our Uganda would be like DRC, South Sudan, Somalia or Nigeria where militias have disappeared with school children.
"It would be a vote of no confidence in our country and citizens if we cannot guarantee our security? What kind of persons would we be?"
The failure of Nigeria to rein in the rampaging Boko Haram insurgents and protect school children from being kidnapped by the terrorists just like the Chibok girls, sparked a global outrage that has turned Nigeria into a laughingstock in the international community.
Museveni's mockery comes on the heels of a recent attack on Nigeria by Zimbabwe's President, Robert Mugabe. Mugabe said Nigeria was so corrupt that you have to bribe a pilot before he could fly his passenger plane at Nigeria's airport.