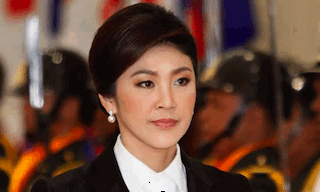 Thailand's former prime minister Yingluck Shinawatra reported to the kingdom's military junta on Friday, an aide said, after dozens of prominent figures were summoned in the wake of a coup.
Yingluck, who was ousted by the courts in a controversial ruling earlier this month, arrived at an army facility in Bangkok in her private bullet-proof vehicle, said Wim Rungwattanajinda.
Thailand's army said on Friday that 155 prominent figures, including ousted government leaders, were banned from leaving the country without permission following a military coup.
They include former prime minister Yingluck and several relatives.