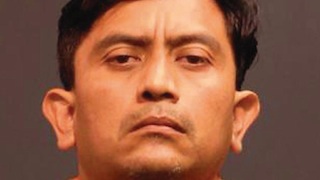 California police have arrested a 41-year old man accused of kidnapping a teenager and sexually abusing her for a decade, after the alleged victim got in touch via Facebook.
The woman, now 25, was forced to marry her alleged captor, and neighbors described them leading an apparently normal life.
"He's a good guy," one neighbor told KTLA television when asked about Isidro Garcia, the live-in boyfriend of the girl's mother at the time.
"I see him every day, going to work, (saying) 'Hi, how you been?'"
NPR radio cited neighbors as identifying the young woman as having the first name Laura, and said she was able to drive a car.
The then 15-year old victim was seized in Santa Ana, southeast of Los Angeles, in 2004 by Garcia, police said Wednesday.
The victim, whose identity was not immediately revealed, had opportunities to escape during the last decade, but "saw no way out of her situation," a police statement said.
In 2007, Garcia allegedly forced her into a marriage and in 2012, they had a child together.
She finally came forward after recently contacting her sister via Facebook, and "eventually gained the courage to contact the police," said the statement.
Garcia — who lives in Bell Gardens, about 25 miles (40 kilometers) from Santa Ana in the Los Angeles suburbs — was booked for kidnapping and rape, lewd acts with a minor and false imprisonment.
"Garcia drugged the victim and drove her to a house in Compton," police said, referring to a rough south LA neighborhood.
Once there, he had false identity documents made for her and "locked her overnight in a garage to prevent the victim from fleeing," the statement added.
"Over the course of the following months and years, Garcia repeatedly told the victim her family had given up looking for her, and if she tried to go back to them, the family would be deported."
They moved several times to avoid police detection.