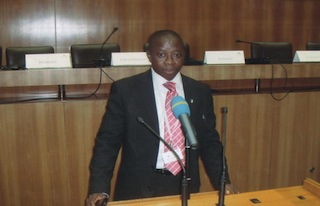 Pa Ogbewe Samson, the father of Rep. Osagie Samson, Minority Whip, House of Representatives, who was kidnapped on 18 May, has been released.
The senior Samson regained his freedom on Thursday.
Speaking with journalists on Friday in Benin after the release, the minority whip said his father was freed after a week of being traumatised in a forest.
Samson said he was the reason for his father's abduction.
The lawmaker said the abductors told his father that his son was standing on the way of the youths in their community from making money through land speculation.
He said the youths vowed to deal with his family.
"The kidnappers confessed they were asked to do everything possible to stop me from getting elected in the forthcoming general elections," he said.
While commending the security agencies for a job well done, he urged the Federal Government to rise up to the security challenge facing the country.
Ogbewe was abducted on May 18 when six gun men riding a Golf car stormed his resident on the outskirts of Benin.