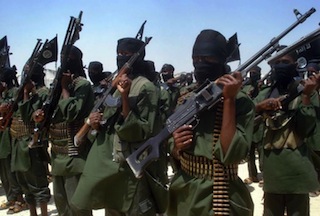 Several people have been killed, including at least four attackers, in an ongoing Shebab rebel assault against Somalia's parliament, police and witnesses said Saturday.
Police official Mohamed Mumin Ali said four Shebab fighters had been confirmed dead. AFP reporters at the scene also counted four dead security guards, adding that a number people had also been wounded.
They said gunfire could be heard coming from inside the parliament complex.
"There is an attack near the parliament building. There was a car bomb explosion and gunfire broke out. We don't have details so far," police official Husein Ise told AFP.
Witnesses said Shebab militants, the Al-Qaeda-linked group fighting to overthrow Somalia's internationally backed government, appeared to be carrying out an attack on the complex while MPs were meeting inside.
It was not immediately clear if gunmen had managed to penetrate the parliament complex, and there were no immediate reports of casualties.
The attack appeared to be similar to an assault on February by the Shebab against the heavily fortified presidential palace, which saw a car bomb go off at the gates of the Villa Somalia followed by an attack by suicide gunmen which left at least 16 dead including the attackers.