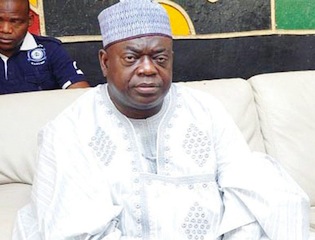 Niger state governor, Babangida Aliyu, on Saturday urged General Abdulsalami Abubakar to prevail on past leaders of the country to help curb insurgency rocking the Northern region.
Aliyu, who is the Chairman, Northern States Governor's Forum (NSGF), made the call at the maiden convocation of the Ibrahim Babangida Badamosi University, Lapai, Niger.
He expressed the hope that security challenges in the Northern states could be surmounted in the next three months.
Aliyu insisted that with concerted efforts from prominent Nigerians, the unbearable situation in the North would soon be a thing of the past.
"I call on Gen. Abdulsalami Abubakar to invite Gen. Theophilus Danjuma, Alhaji Shehu Shagari, Gen. Ibarahim Babangida, to come together and help the North end the scourge of Boko Haram in the next three months."
The governor also called on students of the university to imbibe the best moral practise, saying that academics were not only about learning but also about moral and character.
"As young people, you have central role to play in addressing the situation as positive change agents by advocating for peace, unity and peaceful coexistence devoid of ethnic and religious sentiments in the society."
The governor, who is also the visitor to the university, urged tertiary institutions in the country not to limit instructions of students to academics alone.
The Chairman of the university endowment fund, Gen. Abdulsalami Abubakar, announced that the fund was yielding results.
Abubakar said that money collected so far was already running into hundreds of millions of Naira, saying that it was kept in a dedicated account awaiting judicious use to develop the institution.
Earlier, the Vice Chancellor of the university, Prof. Ibrahim Kolo, said that well over N19 billion had been expended on the university.
Kolo also commended the interventions of TETFund and NIMASA whose contribution to university could not be over emphasised.
NAN reports that 1,732 students, comprising four sets from 2010 to 2014 received their degrees in its maiden convocation.
A breakdown revealed that eight had first class, 324, second class upper; 902, second class lower; 476, third class; and 22 passes.