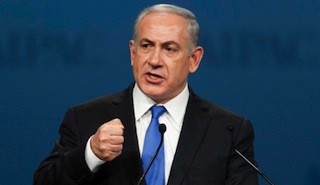 Israeli Prime Minister Benjamin Netanyahu hailed Pope Francis Sunday for his "determined stance" against anti-Semitism, a day after a shooting attack in Belgium killed three people, two of them Israelis.
"We appreciate the pope's determined stance against anti-Semitism, especially in light of the growing hatred of Jews that we are witness to in these days," Netanyahu said at the start of the weekly cabinet meeting.
His remarks, made as the pope arrived in Bethlehem on the second leg of a three-day Holy Land pilgrimage, came a day after the attack on the Jewish Museum in central Brussels that also critically wounded one person.
"Last night's murder in Brussels is the result of constant incitement against the State of Israel by various elements in the Middle East and in Europe itself," Netanyahu added, echoing remarks he made the previous night.
The attack was condemned by European officials, but Netanyahu slammed the "elements in Europe" who condemn settlement construction in east Jerusalem but "offer only weak condemnations" to "the murder of Jews here or in Europe."
"We oppose such hypocrisy, we protest against it," he said.
It was the first fatal attack on a Belgian Jewish centre since the early 1980s in a country that is home to 40,000 Jews, roughly half of whom live in the capital.