The British tabloid, The Mail has reported how the over 200 kidnapped schoolgirls held hostage in Nigeria came agonisingly close to freedom before government officials called off a deal to swap them for jailed terror suspects,
A Nigerian journalist, identified as Ahmad Salkida, who was said to be trusted by both the government and extremists from Boko Haram acted as go-between.
But last Saturday, at the 11th hour, officials scrapped the exchange in a telephone call from a crisis summit in Paris where Nigerian president Goodluck Jonathan met foreign ministers including those from Britain, the United States, France and Israel.
Abubakar Shekau is said to be enraged by the broken deal
An intelligence source told The Mail on Sunday: 'The next video we see from the terrorists could show the girls being killed one by one.'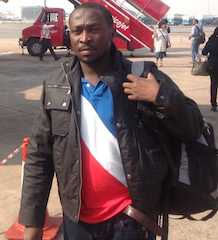 Sources in the Nigerian capital Abuja described how Shekau had agreed to bring the girls out of their forest camps in the remote north-east of the country in the early morning and take them to a safe location for the prisoner swap.
'They would have been dropped off in a village, one group at a time, and left there while their kidnappers disappeared. There was to be a signal to a mediator at another location to bring in the prisoners,' sources said.
About 2,000 Boko Haram members are currently detained.
Read more: http://www.dailymail.co.uk/news/article-2638337/Kidnapped-Nigerian-schoolgirls-new-danger-freedom-deal-scrapped-11th-hour.html#ixzz32nv2NUIB