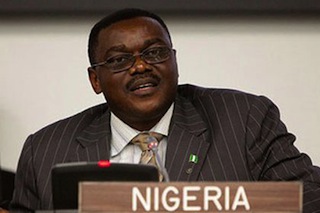 The Federal Government on Monday signed a Memorandum of Understanding (MOU) with the Japanese Government for $85 million dollars (N1.38 billion) loan to facilitate polio eradication in the country.
Prof. Onyebuchi Chukwu, Minister of Health, explained during the ceremony that the loan would be used to purchase vaccines.
"The signing of the MOU is an important milestone for the country. It will help us to ensure the availability of vaccines and timely delivery.
"It is my hope that with the loan, polio will be interrupted this year," Chukwu said.
He said Nigeria would not be the last country to eradicate polio, pointing out that government had taken steps to ensure that all children were immunised.
Dr Mairo Mandara, Nigeria Country Representative, Bill and Melinda Gates Foundation, said the country had made progress in polio eradication due to political support shown at every level.
"The loan will provide financial stability to the programme by fully funding oral polio vaccine for about 18 months from the time it is executed."
Mandara gave kudos to religious and traditional leaders for the crucial part they played in polio eradication.
She said the foundation would repay the loan to the Japanese government with the principal and interest after project execution.
"The loan is also intended to be a useful tool for the Federal Government to help improve immunisation coverage rates in areas that need additional support to stop transmission.
"After Nigeria has executed the loan agreement, the foundation will commit to repay the loan to Japan on behalf of Nigeria if the required immunisation coverage rates are met," Mandara said.
Ryuichi Shoji, Japan's Ambassador to Nigeria, said their financial contribution would build a robust bridge for Nigeria to achieve the goal of polio eradication.
He said the loan of 85 million dollars would have preferential interest rate of 0.2% per cent.
"The loan will be utilised for procurement of polio vaccines for children under five years of age," he said, noting that, Japan has partnered Nigeria for 14 years on polio.
"As long as a single child remained infected, children in all countries were at risk of polio.