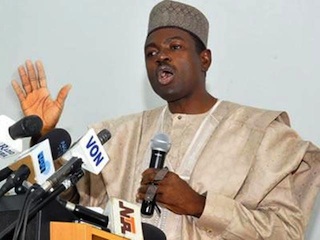 Labaran Maku, Minister of Information, on Sunday in Abuja called on Nigerians to stand united with the Federal Government in the fight against terrorism.
Maku who made the call at the Mountain of Fire and Miracles Ministries Church, Utako said the fight against terrorism should not be left for government alone.
He said the prayers of Nigerians could avert the evils occurring in the nation, adding that the challenges the country had been going through would soon be over.
"These terrorists live in the same communities with us, they are not strangers. We must be security conscious, and we must unite against Boko Haram.
"Nigerians must also be conscious of their environment. They must be vigilant and ensure that people do not park their cars or leave items such as bags unattended to,'' the minister said.
He said those individuals in the country who were against the administration of President Goodluck Jonathan would not succeed in their attempt to derail his Transformation Agenda.
"There is pride in this nation. The proud and mighty ones in the country are saying without them this nation will not move forward. They are liars, our nation will move forward.
"Our country is currently going through the torment of darkness, but it will soon overcome this and peace will soon return to the country.
"This is the time the country needs our prayers most. Peace cannot come to stay, except prophetic prayers which can change the present challenges in the country are rendered.''
Maku said all efforts had been concluded to stabilise and improve the power situation in the country.
He said the present administration had done a lot through the Subsidy Reinvestment and Empowerment Programme (SURE-P).
Also speaking, the wife of the minister, Mary Maku, urged women to earnestly intercede for peace to reign in Nigeria.
"Women are the Deborah of this nation. We must not relent in our prayers for peace to return to the country."
The presiding pastor of MFM, Felix Peters, said the country would soon overcome all the challenges confronting it.