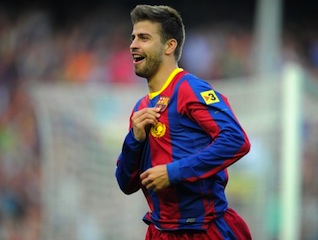 Gerard Pique extended his Barcelona contract by four years on Monday, praising new coach Luis Enrique and predicting their return to the top after a season with no silverware.
The 27-year old centre-back signed with Barcelona up to the end of the 2018-19 season, the club said, without providing financial details. His previous contract ran until June 30, 2015.
"Feeling that I will live out my whole career here is really important to me. I hope for many successes, as many as we have in these last years," Pique, a key member of Spain's World Cup squad, said in a statement released by Barcelona.
Pique lauded Barcelona's new 44-year-old coach Enrique, who vowed last week to strengthen the team "in every area" as he replaced Argentine Gerard Martino after a trophyless season.
"I am really hopeful," Pique said.
Enrique showed he had "very clear ideas", he added. "He knows the club and I think he will give us a lot."
Barcelona can regain its premier spot in world football, Pique said.
"Barcelona has to be at the top, win titles and feel important in the European and world elite," he added. "We have got the team, the coach, we have got all the ingredients to do it again."
Pique had been sidelined after picking up a hip injury on April 1 during Barcelona's 1-1 away draw against Atletico Madrid in the Champions League.
He got a medical all-clear, however, on the eve of Barcelona's ill-fated, end-of-season clash with Atletico Madrid on May 17 in the Camp Nou. The 1-1 result delivered the Spanish league title to Atletico.