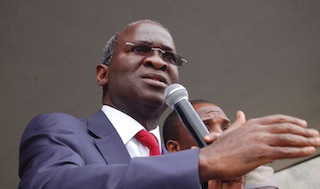 Governor Babatunde Fashola of Lagos State on Tuesday urged the Boko Haram insurgents to release over 200 Chibok schoolgirls abducted since 14 April.
Fashola made the plea while speaking during the state's 2014 Children's Day celebration in Ikeja.
The governor said it was unfair for the group to continue to hold the girls captive for the agitation they knew nothing about and the demands which they could not meet.
He implored the insurgents to consider the plea of everyone on the abduction and free the girls.
Children's Day celebration in Lagos and other part of the country was devoid of the usual fanfare as pupils from various schools marched round the venue to the acknowledgement of the governor.
They were all dressed in red vests with the inscription "Bring Back Our Girls".
"Somebody asked me what the people who have taken our children want, but the truth is that I do not know.
"But what I do know is that whatever it is those people want, it is not the children who can give it to them, it is adults," Fashola said.
He commended the participating pupils for their empathy for the missing children and the concerns they had shown through the modest celebration.
The governor said the messages on their vests, demanding the safe release of the abducted girls showed that they were conscious of happenings around them and they cared about their abducted colleagues.
According to him, the issue of the abducted girls should not demoralise them in pursuing their educational dreams but should give them the courage to move on.
He assured the pupils that the government would do everything to ensure they were not only safe at schools, but they were safe at home and other places.
"You must not be afraid of going to school. I, your governor, your parents, will do everything we can do to ensure that your schools are safe and that you are also safe in your communities," he said.
Fashola advised the children not to trust strangers and not to accept gifts from people they did not know in order to be safe from kidnappers.
The governor also urged parents to always monitor their children's movements and be around them always.
Fashola said security was everybody`s business and called on all residents to police their communities to expose criminal activities.