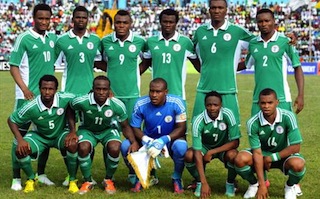 Nigeria's World Cup warm-up friendly against Scotland in London on Wednesday is reported to be the subject of a match-fixing investigation by police.
The National Crime Agency, which investigates serious and organised crime, is reported by the Daily Telegraph to have asked FIFA, world football's governing body, to issue an alert over attempts to fix the game at Fulham's Craven Cottage.
The match is scheduled as a home fixture for Nigeria, who are finalising their preparations ahead of the World Cup in Brazil which starts on 12 June.
"We are liaising with the relevant authorities and will prepare for the match as normal," a Scottish FA spokesman said on Tuesday.
A spokesman for the NCA refused to comment, saying: "The NCA will from time to time provide operational detail necessary for public reassurance purposes.
"It does not routinely confirm or deny the existence of specific operations or provide ongoing commentary on operational activity."
The NCA are said to have told FIFA they have general information from the Asian betting markets suggesting a fixing plan is underway for the Nigeria friendly and they hope to stop the illegal activities by issuing the alert.
A spokesman for British bookmakers Ladbrokes said: "We are taking bets on the match, and will continue to monitor the situation."
And a spokesman for Coral, another British-based bookmaker, added: "In the context of football betting, turnover on international friendlies is minimal. We are not aware of any unusual betting patterns on this match, and that has been reflected across the industry.
"However we are not complacent about it. We do know that where there is integrity concern over football matches, betting tends to take place far from British shores."
The issue of match-fixing is returning to the spotlight ahead of the World Cup, with pre-tournament warm-up matches said to be prime targets for match fixers acting on behalf of illegal betting syndicates in Asia.
Nigeria coach Stephen Keshi will use his provisional 30-man World Cup squad, packed with Premier League stars including John Obi Mikel, Victor Moses, Shola Ameobi and Peter Odemwingie, for the warm-up against Scotland.
Keshi's team face World Cup group stage fixtures against Argentina, Bosnia and Iran.