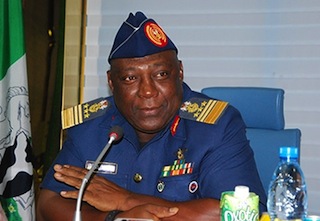 Nigeria's highest ranking military officer on Monday gave a glimmer of hope to the families of more than 200 schoolgirls held by Boko Haram militants, revealing they had located the missing teenagers.
But Chief of Defence Staff, Air Chief Marshal Alex Badeh, warned that any potential armed rescue operation was fraught with danger as the 223 girls still held hostage could be caught in the crossfire.
Boko Haram fighters kidnapped 276 girls from the remote northeastern town of Chibok on April 14, leading to global outrage.
"The good news for the girls is that we know where they are but we cannot tell you," Badeh told reporters in the capital Abuja, as the hostage crisis entered its seventh week.
Nigeria's government and military have been sharply criticised for their slow response to the mass abduction and were finally forced to accept foreign help in the rescue effort.
US drones have been surveying northeast Nigeria and neighbouring Chad from the air while British, French and Israeli teams have been on the ground providing specialist assistance.
The military has previously said that the search was centred around the Sambisa forest area of Borno, in northeast Nigeria, where makeshift militant camps have previously been found as well as arms and ammunition caches.
Meanwhile, suspected Boko Haram gunmen meanwhile stormed a Christian village in northeaster Adamawa state on Sunday, killing 20 residents, a local government spokesman said.
The attack in Waga by heavily armed fighters on trucks and motorcycles bore all the hallmarks of a Boko Haram attack and came after at least 24 people were killed in a similar strike on Kamuya village in neighbouring Borno.
Multiple raids in Borno last week, including two near the missing girls' hometown of Chibok, left more than 80 people dead.
The wave of attacks cement the view that the group can strike seemingly at will, encountering little or no resistance from the military.
Adamawa, Borno and Yobe states have all been under a state of emergency since May last year. Special powers were extended for a further six months last week.