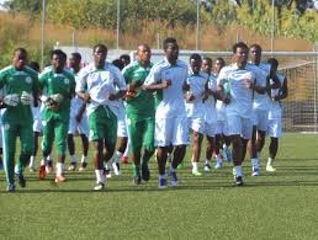 Nigeria's High Commissioner to the United Kingdom, Dr Dalhatu Tafida, has predicted that the Super Eagles will be the surprise team of the 2014 World Cup in Brazil.
A statement issued by Ben Alaiya, the Super Eagles Media Officer on Monday, said that Tafida made the prediction when he hosted the team at the Nigerian House in London.
Tafida said his prediction was based on the team's pedigree, sound technical bench, support of the Nigeria Football Association (NFA) and that of President Goodluck Jonathan to the team.
The statement quoted the envoy as assuring the team that 170 million Nigerians would be praying daily for luck to be on its side during the competition.
"I know President Jonathan will reward you excellently and I will also be in Abuja when a huge reception is organised for the team after the World Cup.
"I am very sure the president will not fail to say thank you; just play your part and leave the rest to him," he said.
Super Eagles coach Stephen Keshi was also quoted as saying that he was working in tandem with NFA to ensure that the team was devoid of injuries in the run-up to the World Cup.
The Super Eagles arrived in London on Sunday for an international friendly against Scotland in London on 28 May as part of its preparation for the World Cup which kicks off on 12 June.
The team is also expected play other friendly matches against Greece in Philadelphia on 3 June and USA in Florida on 7 June, before leaving for Brazil.
Nigeria will play Iran in their first Group F World Cup match in Brazil on June 16.
The team's second match will be against Bosnia-Herzegovina on 21 June and their final group match will be against Argentina on 25 June.