Kazeem Ugbodaga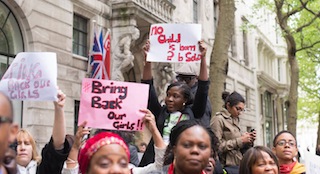 Massive protests rock Lagos State on Children's Day in solidarity with the abduction of 234 secondary school girls in Chibok, Borno State, Northeastern Nigeria.
Hundreds of people from different groups stormed Lagos State Governor's Office to protest the refusal of Boko Haram to release the girls. As against the usual march past and parade by children to mark May 27 Children's Day celebration, it was protests in Lagos.
Group after group besieged the governor's office to register their grievances over the abduction of the girls, making the Children's Day celebration a drab one.
Some of the groups, which took part in the protests are: Nigerians United Against Terrorism, (NUAT) led by Mrs. Lailai Daniels; Association for Formidable Educational Development (AFED), led by Mrs. Ifedola Dada; Al-Mu'minaat Social Advocacy Project (SAP) led by Mrs. Sherifah Yususf-Ajibade, The Young Muslims Association (TYMA), led by Abdulazeez Ajala, Pure Heart Foundation (PHF) led by Mr Abdulraheem Lukman.
There were also the Muslim Students Society of Nigeria (MSSN), Lagos State Area and the League of Muslim Schools Proprietors (LEAMSP).
The protesters marched to the State House with placards, some of which read: "Nigeria Belongs to all of us, let us Unite Against Terrorism," "Bring back our girls alive," "AFED says Bring back our girls," "Schooling is not a Crime, bring back our girls," "Watch and pray, bring back our girls," "Read: Islam supports education," "Muslims are not terrorists," "GEJ: bring back our girls," "Stop the killing," "Stop Terrorism," among others.
Spokesperson for AFED, Mrs Ifedola Dada stated that the protest was to demand for the immediate release of over 200 school girls abducted in Chibok. She said children were now afraid of going to schools for fears of being abducted.
"What is happening in Nigeria is heart breaking. We are tired of empty promises. We are here to ask Governor Babatunde Fashola to tell our President, Goodluck Jonathan to ensure the immediate release of the abducted girls.
"They are our children and each day they spend with the terrorists brings us agony. We don't want them to be exchanged for anyone or other terrorists and we want them to be brought back hale and hearty.
As school owners, we are disturbed because our children are now afraid of coming to school. When they are in school, they are afraid and they are learning in fear. The president must act now," she lamented.
Abdulraheem Lukman, PHF spokesman said: "We condemn the kidnapping of our innocent girls by this diabolical group. This is a solidarity walk and also to make some recommendations to our government to equip our police force to meet modern challenges.
"The kind of police we have in Nigeria are police who use archaic methods, the world today is using preventive policing but in our own case its curative, we are also telling the federal government to ensure that monies meant for Defence, they shouldn't just vote, but ensure the money is used for the purpose meant."
Leader of SAP, Sherifah Yususf-Ajibade described the kidnap as sad, saying that the "abduction of girls seeking to be educated and the inability of our government to secure their release send shivering fear down the spine of both mothers and girl-children, particularly in Northern Nigeria where education has not been given the necessary attention. Thus, the sustenance of whatever success in girl-child education we may have been building over the years is hinged on the rescue of the Chibok girls. Mr. President and his team should act urgently."
Governor Fashola was not around to attend to the numerous protesters. Security officers manning the governor's gate attended to the protesters and dispersed them.