Abiodun Onafuye/Abeokuta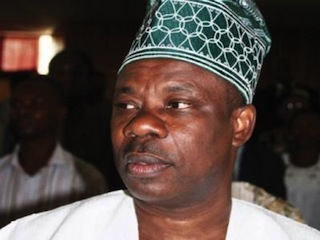 Governor Ibikunle Amosun of Ogun, southwest Nigeria, has threatened to eject illegal occupants in state's government quarters.
Head of Service, Mrs. Modupe Adekunle, issued the threat Wednesday during a briefing to mark the third year in office of Governor Amosun.
She expressed dismay at government officials who had converted government quarters into either a guest house or provision store, stressing that illegal occupants will be ejected soon.
"From the report of previous verification exercise, it was discovered that some of these quarters are being occupied by illegal occupants. In some cases, government quarters had been converted to guest houses and provision stores. This ugly trend must be addressed with all sense of seriousness.
"Officers are known to have unilaterally transferred quarters to their relations upon vacation of the quarters. Most disturbing are cases of officers renting out the quarters to other people," she revealed.
She disclosed that the state governor has approved some committees to commence action on restoring sanity.
"The governor has approved that the Office of the Head of Service in collaboration with the Bureau of Lands and Survey, ministries of Justice and Housing, to as a matter of urgency, commence action on ways of restoring the sanity and efficient administration of government quarters in the state and I can confirmed to you that the people has commenced operations and will soon submit its report," she said.
She assured that the public service will continue to be a reliable partner in the development of the state.
"It is my desire that the public service will strive to be a reliable partner to the present visionary and focused political leadership. We should be seen as agents of change. You will recall that I said during my last year's press briefing that I was looking forward to being the proud Head of Service of the most focus driven, purposeful, oriented, vibrant, efficient and highly skilled civil service in Nigeria. That dream is still in focus."
"The present administration is not looking at the direction of the workers alone. Those that have retired are also being catered for as their money is not being delayed. It is important to note that the number of pensioners in the state had increased from 10,334 in April 2011 to 12,034 as at April 2014.
"This is not a tall dream, it is achievable and will require our strong determination, commitment and sense of discipline. By God's grace, we shall achieve this together," she submitted.