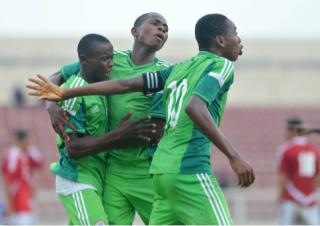 Coach Emmanuel Amuneke has nothing but praises for the Golden Eaglets following a brave 3-2 comeback win against Egypt in the first of their double header international friendly match against Egypt at the Ahmadu Bello Stadium in Kaduna on Wednesday.
The visitors scored two first-half goals through Mahmoud Mahbob and Walid Attid but were overhauled by Nigeria's goals by Samuel Chukwueze, Kelechi Nwakali and Sunday Alimi.
"Sincerely, I thank the players for their courage to win this match despite conceding two early goals," Amuneke said, adding that, "Of course, there were errors because this was the first time we were playing on a natural pitch since we had long been training on artificial surface."
"But I praise the players for job well done. We are going to work better for the next game on Friday," he said.
It was indeed a hard fought win for the Golden Eaglets as the Egyptians took the lead just six minutes into the game following a loss of concentration at the Nigeria's end.
Right full-back, Anas Mohammed failed to clear a ball and allowed Egypt's Mohammed Hamdy to float a ball for Mahbob who effortlessly guided the ball into the net.
Five minutes later, the Eaglets were punished yet again in a similar circumstance when another ball was floated into the box for unmarked Walid Attid to nod the ball into an empty net beyond a badly positioned goalkeeper Amos Benjamin.
But Golden Eaglets fought back in the 27th minute when Samuel
Chukwueze pulled a goal back after collecting a through ball from Suleiman Abdullahi and ghosted past his marker before driving the ball beyond the reach of Egypt's goalkeeper Mahmoud Gad.
Chukwueze's goal coincided with the arrival of Ambassador Nuhu Bajoga, Kaduna State's Deputy Governor and other top government officials as the Golden Eaglets began their revival towards the end of the first half.
Afterwards, Nigeria made changes in the second half with Alimi Sunday replacing injured Nuru Umar as well as Ebere Osinachi for Suleiman Abdullahi. Those changes prove vital as it spurred the lads to a comeback.
Egypt conceded a penalty after Osinachi was fouled in the box and Nwakali scored the resultant kick in the 68th minute.
Sunday, a former national Under-13 player capped his debut for the Golden Eaglets in fine fashion when he grabbed the winning goal in the 86th minute much to the delight of the spectators.
The two teams would return to the same venue on Friday for the second match as they both continue their build up towards the 2015 African Under-17 qualifiers in July.