.Emirs of Uba, Askira hide in the bush
The Borno state government, in Nigeria's north east, has denied reports that two traditional rulers in the state going to a funeral in nearby Gombe state were kidnapped this morning by Boko Haram gunmen.
Government however confirmed the death of the Emir of Gwoza, Alhaji Idrissa Timta and two policemen.
The Emir of Gwoza was traveling in the convoy with the emirs of Uba and Askira to a attend the funeral when gunmen opened fire on their car.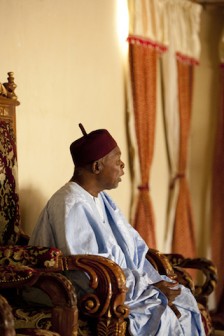 "The Emir of Gwoza was killed around 9 a.m. today following a bloody attack by some gunmen believed to be members of the Boko Haram," Borno state government said in a statement.
Earlier reports said the emir and the Emir of Uba, were kidnapped.
But as government clarified, there was no hostage taken by the gunmen.
Alhaji Idrissa Timta died from gunshot wounds and two policemen were killed while the other two emirs managed to escape, a source at the Emir of Uba's palace told Reuters requesting anonymity.
."The emirs of Uba and Askira ran into the bush and they were not seen for a long time, making people believe they had been kidnapped. But they were discovered after some time," the palace source said, adding that most of the vehicles in the convoy were destroyed.
Another source said earlier that the military had been deployed to the area.
Despite a year-long military offensive against it, Boko Haram, which is fighting to reinstate an ancient Islamic caliphate in northern Nigeria, has been able to run riot across the north east and bomb cities across the country.
On Thursday, in the northeastern village of Gurmushi, near Nigeria's border with Cameroon, suspected Islamist gunmen riding motorbikes killed 32 people.
Nigeria's president Goodluck Jonathan said on Thursday he had ordered a full-scale operation against Boko Haram and sought to reassure parents of the 219 schoolgirls still being held by the group that their children would be freed.
Boko Haram has been kidnapping schoolgirls and forcing them to become "brides" for commanders for more than a year, but the attack on Chibok last month shocked the world and prompted an international effort to free them.
Since April 14, when the girls were taken, at least 500 civilians have been killed by the militants, according to a Reuters count.