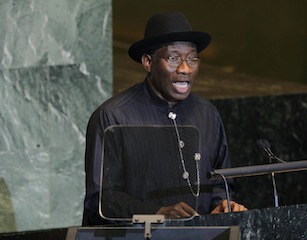 President Goodluck Jonathan has condemned the assassination of the Emir of Gwoza, Alhaji Idrissa Timta, by the insurgent group, Boko Haram.
Special Adviser to the President on Media and Publicity, Dr Reuben Abati, disclosed this on Saturday, in an interview with the State House correspondents in Abuja.
"The president got the news and he was sad about it because what it means is that, these terrorists, who are threatening peace and stability in Nigeria, are desperate and they continue to show that desperation.
"The president made it clear in his democracy day broadcast, that was his main message to Nigerians, that at the end of the day, it is the people of Nigeria that will prevail.
"No matter how desperate terrorists may be, that his government is determined to rid the country of terrorism.
"The whole of the West African sub-region, Africa and the entire world showed that this is the battle that the whole world is prepared to fight.
"So, the days of peace as the president said in his speech are assured because this battle will not end until it is won and the sustainable development is fully guaranteed."
He said the president had also spoken about those who were willing to renounce terrorism and those who were willing to embrace peace,
According to him opportunities have been created for them through the Presidential Committee on Dialogue and Peaceful Resolutions of Conflict in the North Eastern part of Nigeria.
It will be recalled that, in the broadcast, the president had directed the security forces to launch a full-scale operation to put an end to the impunity of terrorists in the country.
The president stressed that the unity and stability of the country and the protection of lives and property were non-negotiable.
He had emphasised his determination to protect the nation's democracy, national unity and political stability by waging a total war against terrorism.
Jonathan had, however, said that government would be open to dialogue and reconciliation with anyone or group willing to genuinely renounce terror.
"For our citizens who have joined hands with Al Qaeda and international terrorists in the misguided belief that violence can possibly solve their problems, our doors remain open to them for dialogue and reconciliation, if they renounce terrorism and embrace peace.
"My government, while pursuing security measures, will explore all options, including readiness to accept unconditional renunciation of violence by insurgents.
"Government will also ensure their de-radicalisation, rehabilitation and re-integration into the broader society," he said.