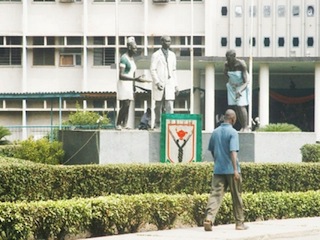 The LUTH, Idi-Araba, Lagos Branch of the Association of Resident Doctors (ARD), is to resume its strike on 2 June, the association announced in Lagos on Saturday.
The President of the association, Dr Omojowolo Olubunmi, said in a statement that the resolution to resume strike was reached at an emergency general meeting of the association, held on 28 May.
"Rising from the emergency general meeting, the association unanimously agreed to resume our suspended industrial action and embark on an indefinite strike, commencing on Monday, 2 June, by 8:00 a.m."
He said the strike was due to a lack of progress in negotiations and deliberations with the hospital's management on the issues raised in the three-day warning strike in April.
ARD embarked on a three-day warning strike in April, issuing a 21-day ultimatum to the management of LUTH.
"The ultimatum elapsed on 29 April, without signs of a strike because doctors and LUTH management were still in talks which have since broken down.
"We have found ourselves left with no other choice."
Olubunmi said the doctors had 12-point contention, including: "the astronomical increase in hospital charges, which have increased the number of avoidable deaths and affected the training of resident doctors.
"Lack of basic facilities and equipments, chronic shortage of stationeries, epileptic water supply, disorganised and dirty environment and inadequate manpower have led to poor service delivery to Nigerians.
"Letters stipulating duration of residency training according to the August 2013 circular be issued to both old and new residents individually immediately.
"The employment list of residents from the outstanding departments be released immediately," he said.
The president said that the hospital lacked a good means of communication and so doctors incurred huge amounts daily in making patients' care-related phone calls within the hospital.
He said the association was against the fees being charged new resident and house officers for training because the residents had not received any salary.
Olubunmi urged the LUTH management to address the association's concerns in order to improve the lives of both patients and doctors.