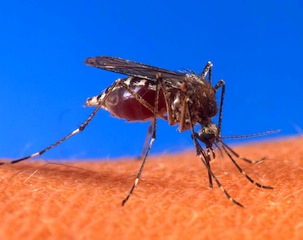 The African Commission on Nuclear Energy (AFCONE), on Saturday, said plans were underway to use nuclear radiation on mosquitoes to combat malaria in Africa.
AFCONE Chairperson, Ambassador Abdulsamad Minty, made the disclosure at a news conference after the commission's Third Conference in Addis Ababa.
"AFCONE is collaborating with the World Health Organisation (WHO) and the International Atomic Energy Agency (IAEA) to conduct researches to evolve a nuclear radiation mechanism on mosquitoes to curb the spread of Malaria.''
He added that the successes recorded in Southern African region in eradicating Tse-tse Fly would be applied to mosquitoes to eradicate Malaria.
Minty said that after the research, the commission would source for finance to put the research result into use to urgently tackle the scourge of malaria on the continent.
He stressed the need for more efforts by African nations to use technology for development and faster growth in the areas of agriculture, science, health and other economic sectors.
"The use of nuclear technology will assist the continent in jumping some steps in our development and industrialisation effort."
The Third Conference of States Parties to the African Nuclear-Weapon-Free Zone Treaty, also known as the Treaty of Pelindaba concluded its two-day meeting with a call for commitment to use nuclear technology to enhance development in Africa.
The Conference was attended by parties to the Treaty of Pelindaba and to its Protocols, as well as by relevant regional and international organisations.
Some of the participants included the IAEA, the Preparatory Commission of the Comprehensive Nuclear-Test-Ban Treaty Organisation (CTBTO) and the Forum for Nuclear Regulatory Bodies in Africa (FNRBA).
The Conference reviewed the activities of AFCONE, including the implementation of its programme of work and its budget.
It also deliberated on the operational status of the AFCONE Secretariat established by AU, which is based in South Africa.
The African Nuclear-Weapon-Free Zone Treaty (Treaty of Pelindaba) was adopted at the 31st Ordinary Session of the Organisation of African Unity (OAU), held in Addis Ababa between June 26 and June 28, 1995.
It was signed in Cairo on April 11, 1996.
The Treaty however entered into force on July 15, 2009.
The Treaty requires States Parties to renounce nuclear explosive devices, particularly to refrain from conducting research, developing, manufacturing and stockpiling.
So far, South Africa is the most advanced African country in nuclear technology, with Algeria and Egypt following.