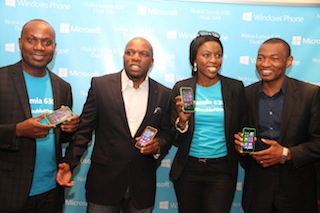 Following the successful acquisition of Nokia devices and services business, Microsoft devices, has unveiled the first smart dual SIM Windows smartphone, Lumia 630 in Nigeria.
During the media launch held at Protea Hotel, Ikeja, the technology giant stated the Lumia 630 dual SIM with Windows phone 8.1 is now available for consumers in Nigeria. The Lumia 630 dual SIM delivers an unrivalled smartphone experience, with quad-core processing at a price that sits right with our consumers.
Head of Marketing, Nokia West and Central Africa, a subsidiary of Microsoft Mobile, Debbie Shepard noted that all across the world, millions of people are switching to Lumia Windows phones. "We are thrilled to extend this innovation to Nigeria and super excited that the Lumia 630 Dual SIM is now available in Nigeria," she said.
"We are extending our high-end technologies and apps to more customers across our various markets, with a seamless Windows Phone 8.1 experience and the first ever dual SIM technology on a Lumia Windows phone, enabling people to seamlessly switch between their SIMs without switching off their devices.
The Lumia 630 Dual SIM is built with a 1.2 GHz quad core snapdragon processor which makes the device super fast and delivers fast, uncompromised social experiences. It also boasts of a bold 4.5" clear black screen.
It also comes with the new notification centre called the Action Centre that allows users simply swipe from the top to the bottom to gives a user quick access to calls, e-mails, app updates as well as the word flow keyboard which is regarded as the fastest and most personal shape writing keyboard.
Managing Director, Nick Imudia is optimistic that Lumia 630 will topple competition. "The Lumia 630 dual SIM provides the perfect value smartphone experience with Windows Phone 8.1. We believe the smart dual SIM capability and signature Lumia design and experiences make it unbeatable in its range. With the Nokia Lumia 630 dual SIM, you get moreof everything you want from a smartphone."