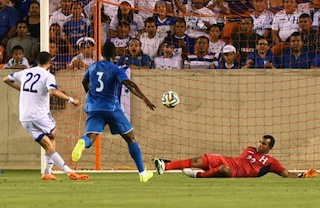 World Cup-bound Honduras suffered a second deflating friendly defeat in four days on Sunday as they were beaten 4-2 by Israel.
Honduras' defense struggled all night and Israel made the most of the openings they were offered.
Eran Zahavi grabbed the first goal for the Israelis, his 30-yard shot sailing past the outstretched hands of Honduras goalkeeper Denis Escobar for a 1-0 lead in the 34th minute.
Honduras manager Luis Fernando Suarez made four changes at halftime seeking to turn things around.
Roger Espinoza woke the Catrachos with a 47th minute equalizer.
However, the good work was undone in the 52nd when Tal Ben Haim had an effort on goal that Escobar appeared to have a bead on, only for Honduran second-half substitute Maynor Figueroa to redirect the shot across the line to make it 2-1 Israel.
Israel furthered Honduras' misery in the 60th minute and Zahavi was again in the thick of it.
He again found room in the middle of Honduras' defense again and bounced a shot off the post. Omer Damari was on hand to clean it up and give Israel a 3-1 lead.
In the 74th, Figueroa surrendered too much space to Gil Vermouth and the Hapoel Tel Aviv midfielder stung the far post to make it 4-1.
Second half substitute Carlo Costly trimmed the deficit with a header in the 83rd minute, but the Catrachos were unable to gain any more momentum on their pre-World Cup tour.
Suarez acknowledged on Thursday after a 2-0 friendly loss in Washington to Turkey — who also failed to secure a World Cup berth — that his team had plenty of work to do.
Honduras' next tune-up promises to offer an even tougher challenge as they take on England at Miami on Saturday.
The Central American side, seeking a first World Cup victory after qualifying for the third time, open their World Cup finals campaign against France on June 15, and will also face Ecuador and Switzerland in Group E.

Load more