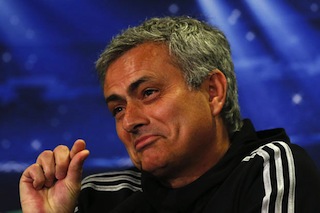 Yahoo global football ambassador and Chelsea Football Club manager, Jose Mourinho has named 16 countries that he believes could advance from the 2014 World Cup group stage.
With an assist from Yahoo's Melanie Collins, Jose navigated through the clear favourites and the tougher calls of the group stage with the same way most fans do: by backing the people he likes most, according to a report by Yahoo.
"I'm very emotional, I go always with my friends," Mourinho says before picking the Netherlands to finish as runners up in Group B behind Spain, since he and Netherlands manager Louis van Gaal worked together at Barcelona in the late '90s.
In Group C, he went with Greece and Didier Drogba's Ivory Coast advancing over Colombia and Japan.
In Group D, he couldn't choose, citing Uruguay's strength and his ties to England and Italy. "If I say England out, next season they don't let me coach here [at Chelsea]."
In Group E, Mourinho said, "I don't believe in another collapse for France," and chose them to win the group with Switzerland edging out Ecuador for the second spot.
In Group F, he opted for Nigeria to finish behind Argentina since the Super Eagles have Chelsea's John Obi Mikel (Victor Moses was on loan at Liverpool all season, so I guess he doesn't count).
In Group G, Mourinho is certain no one will finish with zero points, but he does see Germany finishing top with Portugal behind them. But, he added, that he's afraid for his native Portugal against the United States.
And finally, in Group H, he said: "Belgium has the talent," but somewhat surprisingly went with Russia to finish first and Belgium second — perhaps due to their youthful inexperience.