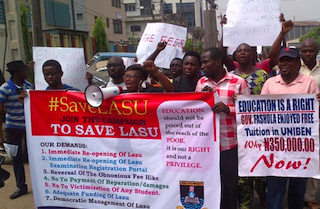 The Lagos State University Students' Union (LASUSU) on Thursday said it would continue its protest over hike in fees until the state government reduced the amount.
The union President, Nurudeen Yusuf, told NAN in Lagos that peaceful protest was a citizen's right as enshrined in the constitution.
Scores of LASU students, had on Tuesday protested, carrying placards around Ikeja-Along Bus Stop through Computer Village to Oshodi over the fee hike.
The protest later turned violent in Bolade area of Oshodi when men of the Nigeria Police Force intercepted the students, firing tear gas and gun shots into the air to disperse the protesters.
Sixteen students were arrested and 10 hospitalised, while five vehicles belonging to the union were seized.
Eight of the students were on Wednesday arraigned before an Ikeja Magistrates' Court charged with disturbance of public peace.
Yusuf condemned the attack by the policemen, adding that the action was unconstitutional and an abuse of power.
"We are students and Nigerian citizens and as enshrined in the 1999 constitution, we have freedom of expression and the right to protest," he said.
The union leader said that the students were not engaged in violent protest on Tuesday but only carried placards and chanted solidarity songs to sensitise the government about their plight.
"We started the protest from LASU gate with five police vans following us all through until we got to Bolade, Oshodi, when it seemed the police received an order to disperse us.
"We did not vandalise any public property as claimed," he said.
Yusuf urged Governor Babatunde Fashola to meet the demand of the students and reduce the tuition fee, as they would not relent in their struggle.
NAN also reports that LASUSU had on 24 April submitted a proposal of N46,500 for returning student and N65,500 for fresh students as the new tuition fees.
This is against the current charge of N197,000 and N350,000 respectively for medical students.
The proposal followed the directives by Fashola at a meeting with the students on 31 March, to come up with a proposal of how much they can afford.
The ad-hoc committee constituted by the state Executive Council on review of LASU tuition, under the chairmanship of the Commissioner of Transport, Kayode Opeifa, invited the students union for a meeting on 27 May.
The committee, however, said that quality education could not be sustained with the fees proposed by the students.