Delegates representing the media at the National Conference on Thursday in Abuja called for the protection of journalists and media organisations in order to carry out their constitutional responsibility.
The delegates, while making contributions on the state of the media, said such protection was necessary for the media to effectively monitor governance on behalf of the people.
Isaac Ighure, representing the Nigerian Guild of Editors (NGE), called for the amendment of Section 22 of the 1999 Constitution to protect journalists.
"The media is the only professional group that is recognised by the 1999 Constitution, and this gives us a very huge responsibility to hold our leaders accountable and that includes those of us here.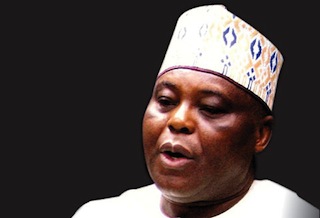 "These cameramen and the reporters here are watching us and they are reporting every word we say.
"Yes, we have been given a responsibility, but there is no protection. We have been sent into the jungle to hunt down the lion without any arms or any form of ammunition.
"We are reporting from Sambisa forest. We are everywhere. That is why we need to be protected.
"That is why we are asking this august gathering to ensure that Section 22 of the Constitution, which gives us that responsibility, is amended to protect us.
"When this Conference started, there were delegates here who wanted the cameramen moved out. But others said `no' and stood their ground,'' he said.
Ighure, who is also the Executive Director, Editorial Operations, News Agency of Nigeria (NAN), said the media's presence had helped a lot.
"That is why we now have fewer people sleeping on duty.
"But in the midst of this, a journalist covering this conference, Iheanacho Nwosu of Sunday Sun, was harassed by security men for doing his job. He was detained."
He recalled that the likes of Dele Giwa, Bayo Ohu, Godwin Agbroko, Tayo Awotunsin, and Kris Imodibie paid their lives in their attempts "to serve the public red-hot news on television, radio and newspaper".
Ighure also called for improved welfare for journalists, saying media workers were grossly underpaid.
Chief Raymond Dokpesi, representing Broadcasting Organisations of Nigeria (BON), regretted the difficult conditions under which private broadcast stations operated.
"AIT and TVC have been transmitting your (National Conference delegates') sitting here free of charge.
"This is a public service responsibility which they are doing, just like every other government station.
"We are saying simply that in a dual broadcasting provision, make provisions for public existence and private existence. That is the situation all over the world," he said.
Dokpesi, who owns Daar Communications, also expressed concern that some private broadcast stations might not be able to meet the deadline for transition from analogue to digital transmission in 2015.
He said the International Telecommunications Union (ITU) had warned Nigeria and the rest of the world 10 years ago that analogue broadcasting would stop by 17 June 2015.
Dokpesi noted that private stations paid N1 billion as fees for a national network licence while government-owned stations paid no fee.
"They said the Federal Government stations are doing public service. But, I don't know what we can call the service we (AIT) are providing here.
"The coverage of the Presidency and all the other activities are also on the same basis. So, there is no level-playing ground, no equity, no justice," he said.