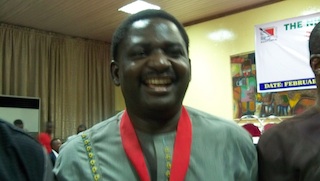 The Nigerian Guild of Editors (NGE), on Friday, condemned the seizure of Nigerian newspapers meant to be sold to the general public.
This was contained in a statement issued by Femi Adesina, President of the guild following military seizure of Leadership and The Nation newspapers meant for the South-South, South East and the North were seized by the military on Friday.
NGE said it was shocked by the conduct of security agents, particularly the military, which laid siege to the roads round the country on Friday to seize the newspapers.
The statement said the crackdown had caused huge economic loss to the publishing houses.
It held that explanation by the military was totally unacceptable and an attempt to launch attack on the media, contending that the military was poised to open a battle front with the media.
It added that the media was more patriotic than anybody in the country.
"The media do not bear arms, but rather we bear information, which shed light on darkness, no matter how seemingly impenetrable the darkness is."
According to the statement, information sets free, it emancipates from shackles, it develops the mind and helps people to make independent, rational judgment.
It called on the military not to accuse the media of any security breach and hide under the umbrella to traumatise it.
"These are perilous times in Nigeria. The military and other security agencies as well as the media have all been at the receiving end of the evil of insurgency," the statement read.
It noted further that the military which already has its hand full to open another flank of battle against the media is indefensible and ridiculous.
The statement said the action was a throwback to the days of military repression, "which we thought we had long put behind us as a country.
"We reject the label of bearer of arms, or any other forms of ordnance to do mischief against our own country.
"If the siege arose out of the need to call a dog a bad name in order to hang it, Nigeria editors roundly and soundly reject such negative profiling," the statement said.
A statement signed by the military spokesman, Major General Chris Olukolade, however, said the onslaught was launched after security agencies received intelligence reports.
It said the intelligence reports indicated movement of materials with grave security implications across the country, using the channels of newsprint-related consignment