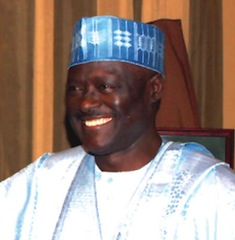 Former Chief of Defence Staff, Lt.-Gen. Martin-Luther Agwai (retd.) has emphasised the need for dialogue to end the clashes between herdsmen and farmers in the country.
Agwai who is Chairman of the Subsidy Reinvestment and Empowerment Programme (SURE-P), made the call in an interview with NAN in Nasarawa state on Friday 6 June.
He said that community leaders must seek dialogue as a means §of resolving the differences that existed in their various settlements.
NAN reports that Agwai accompanied the Minister of Information, Labaran Maku, who was on an inspection tour of Loko-Oweto bridge project site in Nasarawa and Benue.
Agwai said other measures put in place by government and other stakeholders could be useful but maintained that lasting peace was only possible through dialogue.
"You can defend yourselves, fight the invaders, run from your homes and do other things but the truth is that only dialogue can truly resolve your differences.
"These people have been living together in peace for a long time and have suddenly taken up arms against each other.
"The problem can only be addressed through dialogue, the parties must come to a round table and discuss on the way forward,'' he said.
Agwai blamed the constant clashes between herdsmen and farmers in Nigeria on climate change and other natural occurrences.
He said both parties in the conflict must agree to shift grounds and accommodate their interests, irrespective of their backgrounds.
He said climate change was the major cause of the crisis, noting that it has happened in other parts of Africa and unless the people agree to talk, no amount of government intervention will effectively resolve the crisis.
He argued that though government had a major role to play in resolving the clashes, communities must agree to sheath their swords and talk on the way forward.
NAN reports that some of the people displaced in the conflict in Oweto Village and environs, took refuge in makeshift structures on the bank of the Benue River.