Governor Rotimi Amaechi of Rivers state has called on governors of the 36 states of the federation to reflect on the "cracks within the Nigeria Governors Forum (NGF)" ahead of 2015.
Ameachi, who is the chairman of a faction of NGF, made the call on Friday in Port Harcourt while declaring open the fourth retreat of the forum.
He said that the call became necessary to ensure that the forum remained intact in the interest of the nation and the people.
"I want us to reflect on the matter of the crack in the body of the NGF, since it is our dream and aspiration to remain intact and grow together as one.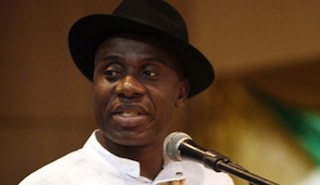 "Regardless of any disagreement, the time to bring everybody back is now. Our country and the people bear the biggest brunt of a fractured forum," Amaechi said.
He added that it was necessary for the governors to imbibe and internalise democratic tenets ahead of 2015.
"Winners must be congratulated while losers must of necessity be commended for taking part.
"Mandates must be respected and held sacred; therein lies the true democratic spirit and the way forward,'' he said.
Amaechi said that the retreat was an opportunity for the governors to deliberate on critical issues of national importance to move the country forward.
He added that it was imperative for state governors to do some stock taking because the retreat was being held at a critical moment in the country.
This, he said, was so because both the federal and state governments were in their last laps of administration.
Amaechi, however, said that the State Peer Review Mechanism, which was the flagship programme of the NGF, had helped to facilitate peer learning and replication of good practices for even development across the states.
The NGF factional chairman said most of the governors would be transiting out of power by 2015, adding that their activities in office would either make or mar their administration.
He expressed hope that resolutions reached at the retreat and the forum`s earlier retreats, would be followed and applied to address the country's challenges.
He expressed gratitude to the staff of the NGF secretariat for their commitment and professionalism in spite of obvious challenges.
Amaechi also enjoyed his colleagues to continue to foster the team spirit which had been the power of the NGF.
He expressed gratitude to the governors for their support toward the success of the forum.
The News Agency of Nigeria (NAN) reports that the retreat hosted by Gov. Amaechi was attended by the governors of Kano, Imo, Adamawa, Lagos, Sokoto, Ekiti, Ogun, Nasarawa and Edo states.
The retreat themed "Health and Youth Unemployment and Transition – Life After Office, Prospects and Challenges", also had in attendance former Liberian President, Prof. Emos Sawyar; former Kwara governor, Senator Bukola Saraki; former FCT Minister, Malam Nasiru El Rurai; Prof. Oyewole Owolabi and Prof. Oyewale Tomori.
The NGF became factionalised following its 26 March 2013 chairmanship election.