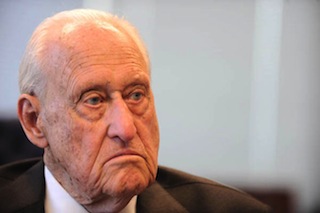 Former FIFA president Joao Havelange, 98, remained in stable condition in a Rio de Janeiro hospital on Friday with a respiratory infection, a hospital spokesman said.
The Samaritano hospital spokesman said Havelange was admitted Wednesday and was expected to be released again shortly. The World Cup starts in Brazil on June 12.
Havelange, who headed FIFA from 1974 to 1998, spent two months in the same hospital in 2012 with a serious ankle infection and heart and respiratory problems.
In December 2011, the former Olympic swimmer stood down as a member of the International Olympic Committee, which he had served from 1963, shortly before he was to face allegations of corruption.
Havelange was investigated over the collapse of FIFA's former sports marketing agency ISL, which went bankrupt in 2001 with debts of some $300 million. He stood accused of receiving money from the agency for granting lucrative World Cup broadcasting contracts.
Havelange's former son-in-law, Ricardo Teixeira, 64, stood down as head of the Brazilian Football Confederation (CBF) in 2012 amid corruption allegations.
FIFA's ethics committee found that Havelange received at least one million dollars in 'commissions'.
Havelange, who competed for Brazil as a swimmer at the 1936 Berlin Olympics and in waterpolo at Helsinki in 1952, played a key role in the modernization of football administration and turning the sport in a lucrative industry.
He was an influential member of the Rio bid team which won the right to stage the 2016 Olympics, the first to be staged in South America.