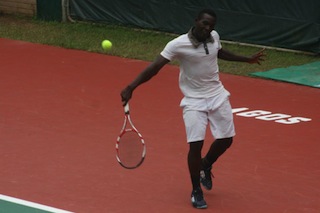 Top players at the ongoing Ekiti Governor's Cup Tennis Championship have advanced to the quarter-final stage of the competition and will compete for a place in the semi-final today.
Samuel Omoile, Thomas Otu, Joseph Imeh, Emmanuel Idoko, Sarah Adegoke, Ronke Akingbade, among others booked their place after routing their opponents in the second round.
Samuel Omoile, who defeated Ekanem Etim 6-1,6-1 will play Thomas Otu while impressive Joseph Imeh will face Emmanuel Idoko following his 4-6, 6-3, 6-3 triumph over home favourite Adebisi Nurudeen.
In other matches, Umaru Balami, who defeated Kayode Olawolu, 7-5, 6-2, will play against Christopher Edward while Iloputa Ikechukwu will play against Sunday Emmanuel.
In the women's event, top seed, Sarah Adegoke beat Onebamhion Patience 6-2, 6-2 to set-up a quarter-final clash against Aiyegbusi Anu while former women champion, Ronke Akingbade will play against Obasogie Rita.
In other fixtures, young Zainab Oladimeji will face lanky Anuna Blessing. The quarter-final clashes will be rounded off when Esorae Nosa takes on Dirisu Ngozi.
Chairman, planning committee for the tournament, Yemi Owoseni, expressed his satisfaction with the players' level of competitiveness.
"I was particularly impressed with those younger players are catching up with their senior colleagues.
"I am sure that with tournaments like this, we will be able to churn out great players for the future because the future belongs to the young ones," the former Vice President of the tennis federation told P.M. NEWS Sport.
The final matches will be played tomorrow afternoon inside the tennis courts of the Trade Fair Complex, Ado-Ekiti, Ekiti State.

Load more