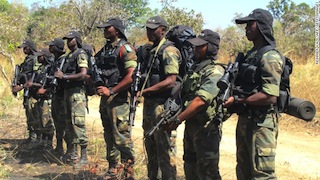 While Nigeria's army is struggling to curb the incessant attacks of Boko Haram Islamist sect particularly in the northeast, west African neighbour Cameroon has successfully resisted the sect.
According Reuters report on Sunday 8 June, Cameroonian troops killed two members of the sect on Saturday taking the total number of the sect members killed in a week to 102.
Suspected Boko Haram militants from Nigeria have allegedly attacked a town in Cameroon's far north on Saturday but local security forces fought them off, killing at least two gunmen, Cameroon's government said.
Cameroon government spokesperson Issa Tchiroma Bakary said a raid was carried out early on Saturday morning by 50 well-armed gunmen believed to be members of Boko Haram.
"Our defence and security forces fought back immediately. (They) killed two of the assailants, seized one of their vehicles and a Kalashnikov war weapon, forcing them to run back crossing the border into the Nigerian territory," he said.
Cameroon had deployed 1,000 troops along its border with Nigeria after more than 200 girls were kidnapped by the sect at Chibok Borno State.
It had killed 40 members of the sect on 31 May 2014 shortly after two Italian priests and a Canadian nun were released in the town of Kousseri.
On Wednesday 4 June, Cameroon soldiers killed 60 members of Boko Haram in its territory 24 hours after the sect raided three villages of Danjara, Agapalwa and Antagara in the Gwoza Local Government Area of Borno state killing more than 300 people.
Fonka Awah, governor of far north region of Cameroon, said his office had received information that some Boko Haram members might be hiding in Cameroonian villages, and asked for specialized troops to be deployed.
"Of course yes, without mincing words, after such a situation you reassemble the forces and map out strategies, you galvanize them and put them back into action and I think that is what we have just done," he told Voice Of America.
Nigeria has accused Cameroon of not doing enough to tackle Boko Haram.