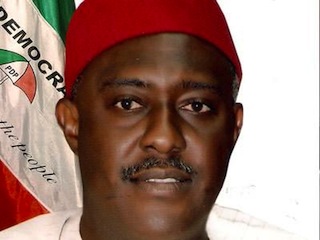 Peoples Democratic Party on Sunday 8 June congratulated the Alhaji Sanusi Lamido Ado Bayero, son of the late Alhaji Ado Bayero, as the new emir of Kano.
In the statement signed by the National Publicity Secretary of the party, Olisa Metuh, PDP said it was happy with the emergence of Bayero as the new emir.
Metuh praised the kingmakers for their wise decision in choosing Alhaji Ado Bayero, the heir-apparent to the throne, adding that: "In so doing, the kingmakers have preserved the sanctity of the throne and the confidence reposed in the revered traditional institution."
"Alhaji Sanusi Lamido Ado Bayero is a rare breed, a man of exceptional wisdom and humility. We have a new Emir who, like his father, remains a detribalised Nigerian with an unshaken belief in the unity and peaceful coexistence of our people as a nation.
"We have no doubt whatsoever that the new Emir will live up to his billing by building on the solid foundation and legacies left by his father to further the greatness of the Emirate where the welfare and prosperity of all are guaranteed."
In the statement, Metuh noted that the new Emir, like his father, "is a gift" to Kano Emirate and Nigeria in general.
It said Alhaji Sanusi Ado Bayero would bring to bear his wealth of knowledge acquired both in the palace and in the Public Service in discharging his duties as the emir.
The ruling party commended the other sons of the late Emir for supporting their elder brother. "Others who nursed the ambition of becoming emir to learn from the nobility and understand that positions of authority are bestowed only by God and not something to be grabbed through political scheming or by force."
In a sharp twist, the governor of Kano state, Rabi'u Kwakwanso announced via his Twitter handle that former Governor of Central Bank of Nigeria, Mallam Sanusi Lamido Sanusi has been appointed as the new emir.
Metuh then issued another statement, to disown the congratulatory message which he claimed was issued by his special assistant, Richard Ihediwa.
He said his aide did not have his permission before he issued the statement.
"About PDP Congratulates New Emir Of Kano: PDP Official Position
"Our attention has been drawn to an unauthorised statement issued on behalf of the National Publicity Secretary of the PDP by his Special Assistant, Richard Ihediwa, congratulating the eldest son of the late Emir of Kano, Alhaji Sanusi Lamido Ado Bayero as the new Emir of Kano.
"Mr. Ihediwa relied on a false news flash on the AIT and issued a statement in that direction without approval from the National Publicity Secretary, Chief Olisa Metuh.
PDP has since not congratulated Sanusi who was suspended by President Goodluck Jonathan.
Load more