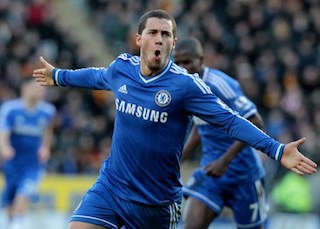 Eden Hazard said he is "100% certain" to stay with Chelsea next season in an interview with Belgian newspaper La Derniere Heure published Tuesday.
"I am 100% certain to stay at Chelsea. Everyone knew that really," the 23-year-old attacking midfielder, who was a target of French champions Paris St Germain, told the paper.
The wealthy French club are said to have offered 75 million euros for Hazard, who had been subject to some severe criticism from Chelsea manager Jose Mourinho in the latter part of the season.
Hazard is presently with the Belgian squad at the World Cup in Brazil.
"In football, you never know. Bam! Things happen," he said. "But I am under contract with Chelsea and I want to stay."
Hazard, whose father is his personal manager and had said last week his son's future would not be discussed during the finals so he was fully focussed on the tournament, said he had received no offer from Paris and indicated that he wants to extend his deal with Chelsea.
"We are talking quietly (with owner Roman Abramovich). It is just the start. He has told me he wants me to stay and that its 'a question of trust for me'. That shows I have done a good job and he is counting on me."
Belgium are in Group H at the World Cup against Algeria, Russia and South Korea. Their first game is against Algeria on June 17.