Gunmen in the Kenyan port city of Mombasa on Tuesday shot dead an influential moderate Muslim preacher who was a vocal opponent of the radical preachings of Somalia's Al-Qaeda-linked Shebab insurgents, police said.
Mohamed Idris, 64, chairman of the Council of Imams and Preachers of Kenya, was shot in the stomach shortly before dawn as he headed to prayers at a mosque, Mombasa police chief Robert Kitur told AFP.
Mombasa County Commissioner Nelson Marwa said it was a drive-by shooting, with unknown gunmen firing from a motorbike.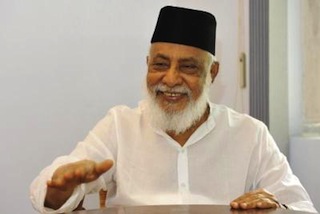 "They shot him in the abdomen and he was pronounced dead at the hospital," Marwa said. "He was a pillar of unity among our people, and he has left a vacuum."
Idris was chairman of a key mosque that was recently taken over radical youths, and according to press reports he had been accused of helping the authorities. The preacher had said he feared for his life.
"There was a power struggle at Sakina mosque — where he was supposed to be installed as a sheikh — between his supporters and another radical group opposed to him," Kitur added.
Last month several Western nations urged their nationals to avoid all but essential travel to the coastal city of Mombasa, the scene of a string of recent bombings and shootings.
Idris's death is the latest killing of Muslim leaders in the city, although previous shootings have been of radical leaders accused of backing the Shebab.
Previous shootings of clerics have sparked riots, and his brother Ali Idris urged people not to take the streets to protest.
"We are calling for calm… we cannot carry out any revenge," he said. "God will pay the killers."
In April, prominent hardline Muslim cleric Abubaker Shariff Ahmed, a rival of Idris, was shot dead.
Ahmed, better known as Makaburi, was a vocal supporter of Osama bin Laden and had described last year's attack on the Westgate shopping mall in Nairobi, which was claimed by Shebab fighters, as "100-percent justified".
In August 2012, radical preacher Aboud Rogo Mohammed was also gunned down, sparking deadly riots, and in October last year his successor, Sheikh Ibrahim Ismail, met the same fate on a road near Mombasa.
Kenya has been hit by a series of attacks since invading Somalia in 2011 to battle the Shebab, later joining an African Union force battling the Islamists.
Mombasa, Kenya's second city and an important tourist hub on the country's palm-fringed Indian Ocean coastline, has also seen a series of attacks on churches as well as power struggles between rival Muslim factions.
Local leaders condemned the murder.
"The killings of Muslim religious leaders has reached alarming levels," said Hussein Khalid, head of the Mombasa-based civil society group HAKI Africa.
Idris preached in mosques that radical interpretations of jihad were wrong, and that Islam was a peaceful religion that did not encourage violence. He had also urged the government arrest key financiers and radical preachers.
He is survived by four wives and 25 children.