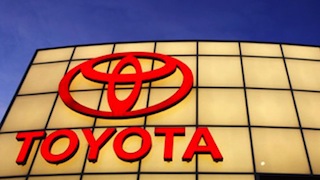 Toyota on Wednesday said it was recalling 2.27 million vehicles globally over an airbag system defect that could cause a fire, the latest in a series of callbacks by the world's biggest automaker.
The company, which has now recalled about nine million vehicles in the past two months, said the announcement covered about 20 models, including its Corolla sedan and Yaris subcompact.
The fire risk from the defect covers about 1.62 million cars abroad and 650,000 in Japan, Toyota said.
"There is a risk that the airbag container could break down and scatter around, which could cause fire or injuries," the carmaker said in a statement submitted to Japan's transport ministry on Wednesday.
It did not elaborate on details of the potential fire hazard, but a company spokesman in Tokyo said the automaker had received a complaint from a Japanese customer who said his passenger seat was burned due to the glitch.
Related News
The spokesman added that no serious injuries or accidents linked to the defect had been reported.
The callback comes after Toyota in April recalled 6.39 million vehicles globally over a string of problems, dealing another blow to the firm, whose reputation for quality and safety has been dented in recent years.
Despite record sales and bumper profits, Toyota has been fighting to protect its brand after earlier recalls involving millions of vehicles.
In March, it reached a deal to pay $1.2 billion to settle US criminal charges that it covered up a sticky pedal blamed for dozens of deaths.
US rival General Motors has also been sideswiped by accusations that it hid a decade-long ignition and airbag problem linked to 13 deaths.