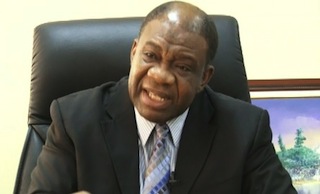 Prof. Chinedu Nebo, Minister of Power on Wednesday in Abuja, said the Federal Government's Power Reform was very much on course.
This optimism was contained in a statement issued by the Special Assistant to the Minister on Media, Mrs Kande Daniel.
The statement said it was untrue that Nebo said that the current power sector reform had failed during an event in Lagos on Tuesday as reported by a national newspaper, which read: "Despite huge financial resources committed to the transformation of power sector, Prof. Chinedu Nebo, has admitted failure of the reform."
According to the statement, the minister describes the publication as false and unfortunate, adding that, there was no way he could have made such statement or even inferred it.
It said there was nowhere the said report of the newspaper justified the claim it made concerning the minister's statement.
The news report quoted the minister as saying; "the Federal Government is deeply worried that the current power situation is not capable of propelling industrialisation and grow the economy.
"It is therefore looking at other opportunities that will create power alternatives to communities.
"To quickly reach the identified communities, institutions and industrial clusters, government is providing the necessary support for the General Electric (GE) on the distribution of power application options."
According to the statement, a cursory look at the above statement does not imply any failure of the power reform and wonder where the paper got its interpretation.
It said contrary to the claim, the minister was talking about the unacceptable power situation in the country, which incidentally, the reform was meant to correct.
"To have admitted that the current reform is a failure is akin to throwing in the towel at one of the fundamental pillars on which the reform agenda of President Goodluck Jonathan stands.
"This will not only be disastrous but will ultimately spell doom for the country and its aspiration to becoming one of the top 20 economies in the world by the year 20-20," it said.
The statement noted that the reform process had not failed and would not fail with the privatisation of the sector, stating that, "things will only get better".