Senator Oluremi Tinubu representing Lagos Central Senatorial District at the National Assembly, recently gave an account of her activities in the Senate in the last three years before the media and members of her constituency.
The event which was held at her constituency office, the Rehoboth House,Yaba, Lagos Mainland, had in atendance Lagos Central APC leader Prince Oluyole Olusi; Lagos APC Secretary Eshinlokun Sanni; former Minister of State for Defence Chief Demola Seriki; one-time Finance Commissioner Wale Edun; Alhaji Mutiu Are and Yaba Local Council Development Area (LCDA) Chairman Jide Jimoh among others.
In her report, titled: "Making a mark: Three years of people-focused representation", Mrs. Tinubu said she sponsored three bills and co-sponsored two motions affecting her constituency.
The bills include the National Social Security Agency Bill, 2011; a Bill for an Act to Amend the Labour Act, 2004, and for other matters; and the Lagos State Special Economic Assistance Bill, 2013, which has passed through the first reading.
Senator Tinubu said she sponsored the Motion on Flood Disaster in Lagos and the motion on the urgent need to investigate the imminent collapse of the Third Mainland Bridge, Lagos.
She listed Lagos Central Constituency projects captured in the budget to include the on-going construction of a N222.3 million Drug Rehabilitation and Counselling Centre at Gedegede, Eti Osa; the construction of N223 million ultra-modern market in Oke Ira, Eti-Osa and a N220 million model primary school at Takwa Bay in Iru/Victoria Island Council.
Mrs. Tinubu said as a member of the Senate Committee on Education, she secured intervention funds through the Tertiary Education Trust Fund (TETFUND) for tertiary institutions in Lagos State.
These include N160 million for the construction of a 1,200-seater auditorium at Adeniran Ogunsanya College of Education, Ijanikin; N109 million intervention for Michael Otedola College of Primary Education (MOCPED), Noforija, Epe; and N108 million for the Lagos State University (LASU), Ojo.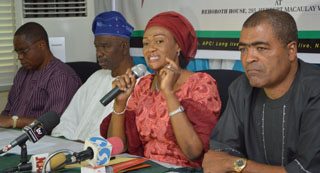 She said: "Also, through the Senate Committee on Education, additional resources were secured to rehabilitate some schools and provide three classroom blocks with toilet facilities. These are Jibowu Junior High School, Yaba (N21 million); Banjo Primary School, Otumara Ilogbo, Ebutte Metta (N20 million); Christ Cathedral Church Primary School, CMS, Lagos Island (15 million); Teslim Elias Primary School, Oja Oba, Lagos Island (N15 million); Ansar-ud-deen Primary School, Okepopo, Lagos Island (N15 million); and Ire Akari Primary School in Orile, Apapa Iganmu (N15 million).
"Through the Universal Service Provision Fund, Aje Comprehensive High School in Yaba was supplied with 100 computers, one server, two laptops and 110 charging points. In 2014, projects worth N61.5 million were proposed. Projects expected under the 2014 federal budget are the provision of three classroom blocks with VIP toilets and the supply of five sets of computers, UPS and printers to each of the following schools: Iponri Primary School, Iponri; St. Clementina Primary School, Mosalasi Bus Stop, Surulere; State Nursery/Primary School, Arakan Barracks, Apapa; and Union Baptist Primary School, Oja Oba, Isale Eko.
Senator Tinubu reflected on the Lagos Constituency Development and Empowerment Initiative sponsored by her in the last three years, saying she had ploughed back to the constituency.
She said: Since the Post-Secondary School Scholarship Scheme (PSSS) was launched, 26 beneficiaries of four-year scholarships receive a N100,000 annually to support their education. The selection was made from 650 candidates. The remaining 624 applicants were given a one off N10,000 each to buy books.
"Before the commencement of each academic year, I meet the 26 students in an interactive mentoring session. They also attend leadership training at the New Era Youth Camp (NEYOCA) in Kayetoro, Ibeju Lekki.
"We launched the Petty Traders Empowerment Capital Scheme (PETECS) and 650 beneficiaries were given N20,000 each to enhance their trades or businesses. The sponsorship of Senator Muniru Muse Under-12 boys and Under-15 girls was in continuation of a tournament introduced by my predecessor. We have hosted and sponsored three tournaments since I assumed office as a senator,"she added.
"Since the Elderly Citizens Assistance Scheme (ECAS) was launched, it has been a yearly event. This was inspired by the Elderly Citizens Assistance Bill I initiated. A total of 1,300 beneficiaries drawn from the 13 LGAs/LCDAs in Lagos Central Senatorial District receive N10, 000 each with various gift items. In the 2013 edition, we introduced free health screening.
"The Youth Empowerment and Skills Acquisition Scheme (YESAS) was initiated, under which 164 youths were trained in various vocational skills by experienced instructors (during three days and five days training programmes). A start-up kit worth N10,000 was given to each of them and N40,000 was also given to them in two installments.
"Also, free GCE forms were distributed to 220 candidates during our Seventh Town Hall meeting on June 14, 2013, to enable them make up their results and fulfill their dreams of going to tertiary institutions. Another 220 candidates will be given GCE forms for 2014 at our next Town Hall meeting on June 11.
"Under the Good Boys and Good Girls Empowerment Scheme (GBGES), N100,000 start-up capital was provided for 80 beneficiaries drawn from various parts of the state. This programme was introduced to give a second chance to unemployed and idle youths. Due to more pressure from those from my Senatorial District, another set of 11 beneficiaries were added to the list."
Mrs. Tinubu said the quarterly Town Hall meetings allow her to receive feedback on her programmes, adding: "Most of the programmes we implemented were conceived at Town Hall meetings, which we rotated across five LGAs/LCDAs —Lagos Island, Yaba, Surulere, Apapa and Eti Osa. In total, we have hosted 10 Town Hall meetings and the 11th will be hosted on Friday, June 11, at Eko Club, Surulere.