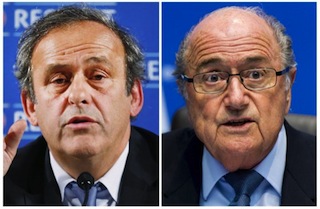 World football was plunged into open warfare on Thursday as UEFA president Michel Platini said he would no longer support his FIFA counterpart Sepp Blatter ahead of an election next year.
"I am supporting him no longer, it's finished," said Platini.
"He knows it, I told him. I think FIFA needs a new breath of fresh air."
Platini, who is yet to decide whether to contest the FIFA presidential election himself, said that while he respected the 78-year-old Swiss world football needed a new leader.
Blatter, who has been under pressure over the controversy-plagued 2022 Qatar World Cup, had declared to the FIFA Congress in Sao Paulo on Wednesday that he was ready for a new mandate despite having said in 2011 he would not seek re-election for a fifth term.