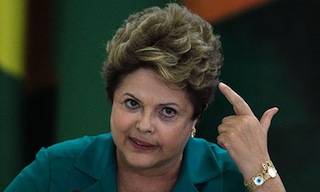 Thousands of people shouted an obscene message to Brazilian President Dilma Rousseff at the opening match of the World Cup on Thursday.
Minutes before kick-off, Rousseff, who is up for re-election in October, was greeted by fans with cries of "Ei, Dilma, vai tomar no culo!" — which roughly translates as "Hey Dilma, go fuck yourself!"
Rousseff is battling to reverse widespread discontent over Brazil's faltering economy and the record $11 billion it spent on the World Cup, which critics say should have been used for education, health, housing and transport.
Brazil has been hit by a wave of protests ahead of the World Cup, including Thursday in Sao Paulo, when police used tear gas, stun grenades and rubber bullets to stop a group of radicals from marching on the stadium where the hosts took on Croatia.
Rousseff was one of 12 heads of state and government who flew in to Sao Paulo for the match. They were shown on the stadium's giant screens before kick-off.