The panel of adjudicators of Nigeria Auto Awards has voted D-Segment Honda Accord the 'Executive car of the year.' Honda accord outpaced rival mid-size family sedans including Toyota Camry, Kia Optima and Hyundai Sonata to win the coveted plaque at the 9th edition of the awards.
The award which took place at the Eko Hotels and Suites Lagos attracted a substantial number of automobile stakeholders and government officials. Honda's win wasn't a big surprise as the Accord boasted the highest attributes among the brand watch factors, including affordability, "cool" factor, driving comfort, driving performance, durability/reliability, exterior styling, fuel efficiency, interior layout, prestige/sophistication, reputation, ruggedness and safety.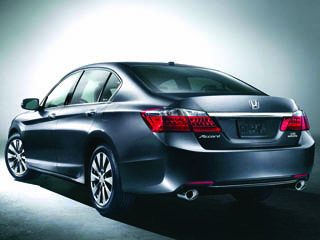 The jurors said strong consumer perception also helped drive Honda Accord's success to earn top honour among rival brands. The adjudicators added that responses from numerous new car and truck owners as well as stakeholders facilitated their opinions about various brands that were categorized into 33 groups including tyres, workshops and logistics.
Deepak Daryanani, Head, Sales and Marketing, The Honda Place had in a post award remarks said: "A brand is really built over the long haul through consumers' experiences with its products, and Honda is committed to delivering class-leading vehicles that provide lasting enjoyment and value to our customers."
The Accord is offered in standard LX and EXL 2.4 litre four-cylinder engine with 173 bhp, mated to a five-speed automatic transmission (A/T) in Nigeria.

Load more