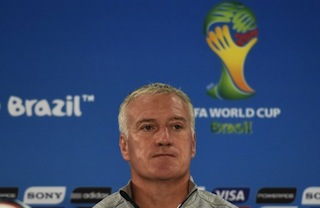 France coach Didier Deschamps has said FIFA will look into claims one of his side's training sessions was disrupted by a drone flying overhead earlier this week.
The incident is believed to have taken place on Tuesday at France's World Cup training camp in Ribeirao Preto, north of Sao Paulo, as they prepared for their opening match against Honduras in Porto Alegre on Sunday.
"Apparently drones are used more and more," said Deschamps, who captained the side to their only World Cup triumph in 1998.
"We don't want intrusion into our privacy. It's hard to fight.
"It's not up to me — FIFA handles this and has been carrying out an inquiry."
FIFA is yet to comment on the matter.
Drones are more commonly used to spy on military targets.
Deschamps did though accept that concerns over the small unmanned aircraft are more trivial than those that faced Les Bleus four years ago in South Africa when they crashed out at the group stages amongst a player revolt that sparked a national scandal.
After facing Honduras, Deschamps' men will also take on Switzerland and Ecuador in Group E.